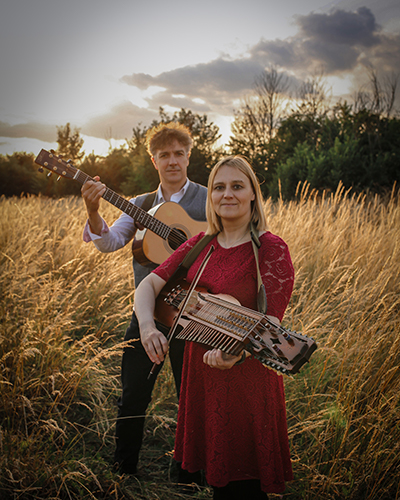 Vicki Swan & Jonny Dyer
Vicki Swan & Jonny Dyer recently changed jobs and moved into Cyber. They have worked tirelessly since the start of the pandemic performing all over the world giving concerts and dances. The car might only have had a couple of hundred miles put on the clock – but their internet mileage is massive. The only part of the house not being used for their virtual existence is the cupboard under the stairs where they huddle of an evening after the long walk back home from either Studio 1 or Studio 2.
Their prior years of experience on the Playford, Contra and Ceilidh scenes has stood them in good stead for their transition to virtually playing for Zoom dances in 2021. Jonny plays a range of instruments including cowhorn, harpsichord, carnyx and näverlur – none of which will be played at the Whitby ceilidh. He will however play his accordion. Vicki plays nyckelharpa – the magical keyed fiddle from Sweden, as far as Vicki is concerned, no other instruments matter (there is the outside chance of flute, but probably not bagpipes).