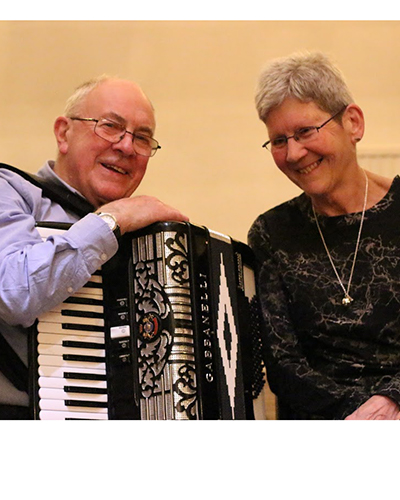 Johnny Handle & Chris Hendry
Chris Hendry is a Scottish singer who learnt many of her songs from such traditional singers as Jeannie Robertson, and the Stewart family. As a teenager
in the early 1960s she became part of the Fife folk club scene in St. Andrews, and was recorded by Hamish Henderson for the School of Scottish Studies at
Edinburgh. Later moving to North East England to study and teach, Chris joined the team of residents at the prestigious Folksong and Ballad Newcastle.
After working in the south of England, and performing regularly at Oxford and Bristol, she returned to Tyneside where she now lives with her husband, Johnny Handle. Regarded as one of the best singers in the region, Chris has a wide repertoire of material from the great ballads to farming and industrial songs. Her strong voice has all the characteristics of the great classic singers with a controlled use of decoration, breathing and volume.
Johnny Handle has been performing since 1953. He plays piano, banjo, bass, guitar, trumpet, Northumbrian pipes and Accordion. Moving from jazz and
popular music to folk in 1958 he founded the first folk song club on Tyneside, and has an interest in local material ever since. His research into North East
collections has enabled him to revive many old songs and inspired him to compose new ones. With the Piano Accordion as his main instrument, he has
encouraged many younger performers, who perform his tunes and songs.
He was a member of the High Level Ranters folk band from 1964, playing at venues throughout Britain, Europe, America and Australia.
With numerous CDs, and Radio and TV broadcasts to his credit, Johnny has gained a reputation as an outstanding entertainer, with his talented playing,
songs, recitations and patter. He has done much work in schools, passing on songs and dances to the next generation. The FARNE website has been brought
about due to his wide ranging study of North East Archives.
Chris and Johnny appear together regularly in Tyneside and Northumberland, and have performed at concerts, clubs and festivals in various parts this country and abroad over the last 25 years. Their exciting blend of music and song appeals to all audiences, presenting a display of our rich heritage.