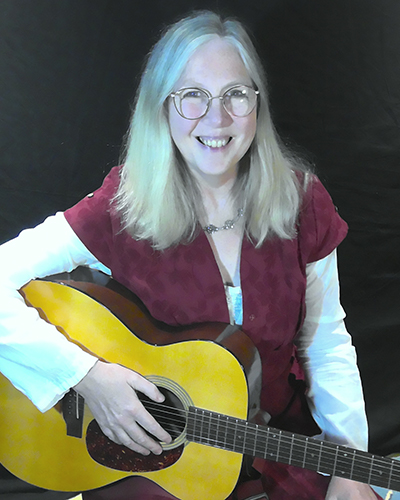 Janet Russell
Janet Russell first made a name for herself on the folk circuit in the '80's as a young singer songwriter writing with hard-edged humour about issues affecting women. Her "Secretary's Song" was the most requested song on "Folk on 2" in 1987/8.
Janet toured with Christine Kydd in the 80s and 90s, nationally and in Europe and the US. She worked with Sisters Unlimited (Sandra Kerr, Peta Webb, and Rosie Davis) from the 1990s until 2018. Continuing to perform solo, she also became a well respected harmony workshop and community choir leader. With Jim Woodland, her long term partner and father of her two sons, she has worked for Mikron Theatre, and with such national treasurers as Leon Rosselson, Robb Johnson, Frankie Armstrong, Reem Kelani, Sandra Kerr, Peggy Seeger and the much missed Roy Bailey in the Anti Capitalist Roadshow. Janet also formed a quartet with Frances Watt, Rosie Davis, and Kerry Fletcher which specialized in singing for dancing and made one album in 2013 called "doodle i doe".
It must be more than 20 years since Janet's first booking at Whitby Folk Week, and although we can't be in the same room together this year, it is an honour and a pleasure to be invited to participate in Whitby@home this year.