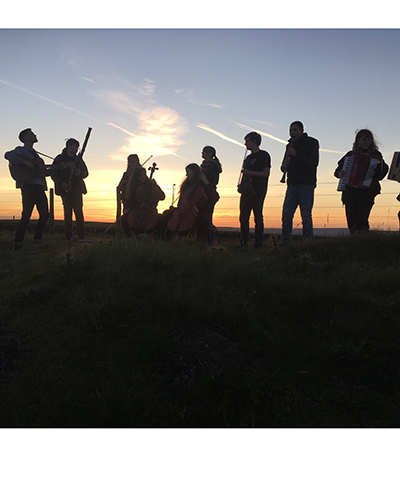 Cream Tees
Music at the Heart of Teesdale (M@HoT) was formed in 2011, with support from the HLF-funded Heart of Teesdale Landscape Partnership.
The project set out with 2 aims:
To research as far as possible, historic recordings of folk song and dance.
To establish a youth folk band, with the aim of reviving some of this traditional music in a new generation of musicians
Over an initial 3-year funding period, over 80 songs, tunes and dances were uncovered by researcher Mike Bettison, bringing together for the first time recordings made over a 120 year period by the likes of Ralph Vaughn Williams, Joan Littlewood & Ewan MacColl and Alan Lomax.
During this period, M@HoT's youth band Cream Tees was established. Led by Neil Diment with support from TCR Hub, Teesdale School, Durham Music Service and Newcastle University's Folk & Traditional Music department, a fledgling group of young folkies emerged; soon establishing a now legendary fondness for biscuits and an inclusive workshop methodology that championed learning music by ear.
Since then, M@HoT has continued to grow, expanding our delivery of folk arts workshops across Teesdale & Weardale. As well as on-going research and our regular activity with Cream Tees, M@HoT delivers a varied programme of Longsword Dance workshops with local primary & secondary schools, intergenerational Rapper Dance workshops, public music masterclasses with guest tutors, and larger scale public events – like The Ceilidh Project.
Formed in 2011, Cream Tees are a youth folk band based in Barnard Castle, County Durham. Welcoming musicians aged 8+ the band champions local and regional folk music, with the occasional Scandi dance number or Scottish party tune thrown in for good measure. This would have been their 3rd year at Whitby Folk Week, and whilst all of us are missing the chips, tunes and ceilidh dancing – we're delighted to share some new music with audiences that have been taught and recorded during Lockdown with Saul Rose via Zoom.