For 2020, the special events will include:
Framed – The Alice Wheeldon Story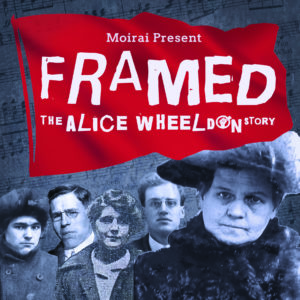 Alice, well known & respected in Derby, was a feisty, principled working woman. As free thinkers, Alice & her family supported women's suffrage & emancipation, rational dress & mixed bathing, social justice & were opposed to war.
In 1916 as terrible news of the disastrous First World War emerged, MI5 became concerned about the growing anti-war movement & opposition to conscription. Undercover agents invented the story that Alice Wheeldon & her family plotted to poison Prime Minister David Lloyd George.
The Wheeldon & Mason families were convicted of conspiracy to murder. They were tried at the Old Bailey in London in a blaze of publicity. They were found guilty & sentenced to prison.
"Framed: The Alice Wheeldon Story" is a new folk music and song show written and performed by Derby trio Moirai (Jo Freya, Sarah Matthews and Mel Biggs). Join us and discover this 100 year old tale of fake news, family values and activism which is oh so relevant in today's turbulent modern world.
Here at the Fair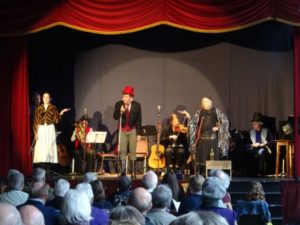 HERE AT THE FAIR is Mick Ryan's latest production. With 20 remarkable songs that only Mick could have penned, this show is beautifully interspersed with dialogue that exposes the personal worlds of the characters living the travelling entertainers life in Victorian England.
The show has already left audiences spellbound with a standing ovation on its debut performance at Chippenham Folk Festival, followed by success at Tenterden Folk and Halesworth Arts Festivals.
Mick Ryan has assembled a cast of prodigious talent which includes all three members of Granny's Attic, Geoff Lakeman, Heather Bradford, Pete Morton, Alice Jones and Mick himself.
Giddy up at Whitby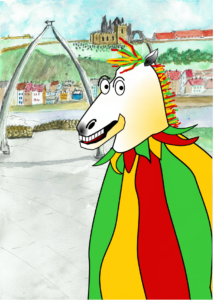 Giddy up at Whitby, a children's book starring a morris horse who gets lost at Whitby Folk Week, is due to launch at this year's festival. The book has been produced by two morris dancers from the North East: squire of Newcastle's newest side Black Gate Morris, Katie Palmer Heathman, and Geoff Roberts, squire of Hexham Morris Men, who appeared at Folk Week 2018.
Watch this space for more…