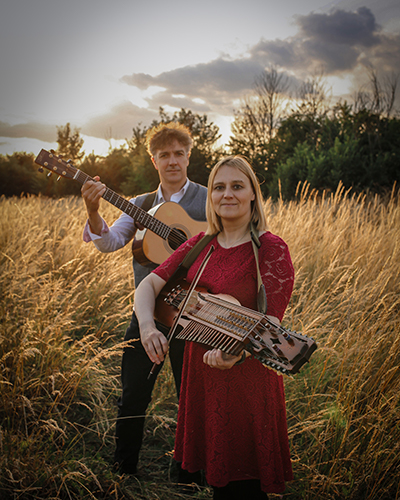 Vicki Swan & Jonny Dyer
Vicki Swan & Jonny Dyer effortlessly blend traditional material with contemporary sounds. 
Vicki and Jonny are two of the most versatile musicians of the folk circuit today, a On stage – and now online, the duo are recognised for the  high quality of their polished concerts; not only by their charismatic singing and playing but also by their involving, winning presence and easy rapport, their polished delivery that genuinely respects their listeners, and their lively, informed backstories. The whole package.
Their performances showcase new interpretations of old songs alongside original self penned tunes and new contemporary songs that are entirely at home in the tradition. They have developed a sound that is both familiar and fresh. Strong believers in letting the music tradition live and breathe through sensitive interpretation, Vicki and Jonny allow the melody to sing without any constraints. 
Be entranced by the haunting nyckelharpa, amazed at the cow horn (one of the world's earliest communication devices) and meet some of the bagpipes that didn't come from Scotland. Suitable for all ages, their evenings are packed with toe tapping tunes and songs of love, death, trains and dressing up (not always at the same time) all presented with sparkling gentle humour, lots of smiles and skilful musicianship.
Vicki Swan (Swedish nyckelharpas, Bagpipes of various sorts, vocals and flute)
Vicki studied at the Royal College of Music on the double bass. She also plays the various types of bagpipes, flute, recorder, piano and nyckelharpa (Swedish keyed-fiddle).  On leaving music college Vicki started down the long path of folk music and was only seen on rare glimpses back in classical orchestras. You'll find Vicki now inhabiting the troll ridden forests playing her Swedish bagpipes, bagging tunes for new books. Vicki holds the Zorn Bronze Award for the traditional playing of Swedish bagpipes and runs workshops and teaches the nyckelharpa around the UK.
Jonny Dyer (Vocals, Guitars, Accordion)
Composer and competition-winning guitar player; Jonny's outstanding technical ability, coupled with a wide-ranging musical taste has made him a tireless and forceful musical innovator. Jonny has been singing choral music and playing soul, jazz and folk for as long as he can remember.
During the Covid19 lockdown Vicki has been creating a never ending stream of videos for the nyckelharpa community, culminating in the first ever World Nyckelharpa Day which spanned the globe from dawn to dusk. Jonny has been locked away creating an amazing sound creation spanning time itself from the dawn of music to attic jazz. It's quite possible this epic masterpiece may not be finished by the time lockdown finishes. 
Current Discography
Sleep Deprivation – 2020
Twelve Months & A Day – 2019
An Invitation to Dance – 2017 (with Purcell's Polyphonic Party)
Paper of Pins – 2016
A Sound of Christmas Past – 2014
Red House – 2013