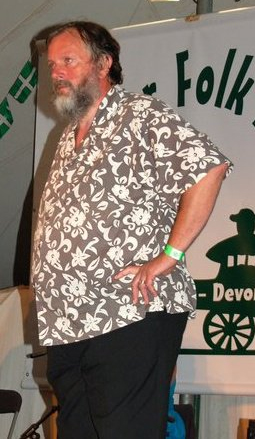 Baz's calling career evolved by accident. Following dancing with the Ironmen at a festival at London's South Bank the invited dance teams organised an impromptu ceilidh, taking it in turns to call dances. Dave Hunt had disappeared (allegedly to the loo!) and Baz called his first dance in public. When All Blacked Up (later Ironmasters) formed he took on the role of caller unless people asked for another one…it was cheaper that way!
Referred to as the band's "ebullient front man" Baz allegedly "enjoys a national reputation for his entertaining style", and frequently works with other dance bands. These have been as musically diverse as The Boat Band, Polkaworks, Glorystrokes and Blackbeard's Tea Party and in places as varied as tiny village halls and national festival stages.
Over the years Whitby has seen him as a morris dancer, playing melodeon and harmonica for ceilidhs and workshops, and sporting the yellow dungarees of Dr Sunshine's Pavement Show. 2019, however, will see his Whitby calling debut.