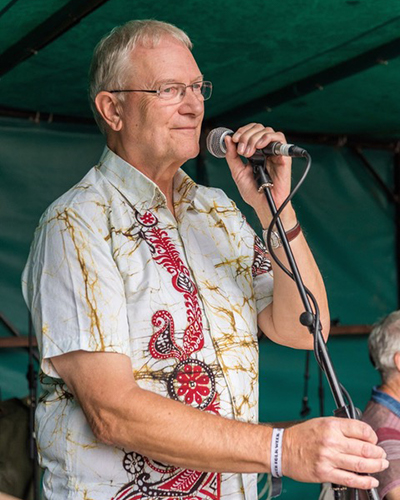 Barry Goodman
Barry is well known as a singer, compere, caller, musician and dancer as well as being a writer of songs, dances and tunes. As a caller he has worked with many of the finest ceilidh bands in the country. He likes to make dancers feel relaxed and confident and his clear but relaxed style of teaching the dances has made him a popular choice at folk festivals and ceilidhs nationwide.
During 2020 and 2021, Barry called for a number of "virtual" ceilidhs, adapting and composing dances for solo dancers, couples and small groups to enjoy in their own homes!
Barry also presents illustrated talks on English customs, "Good Morning, Lords and Ladies" and "Traditional Treasures", together with his wife, Gill.