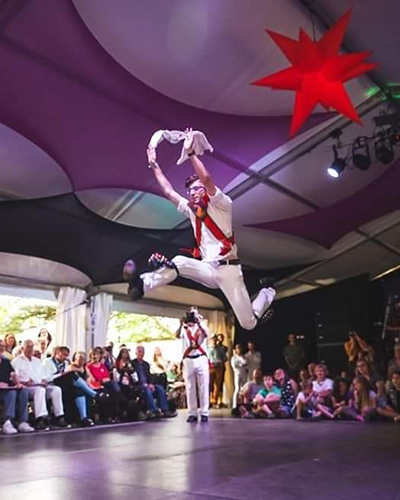 Toby Melville
Toby has been dancing since before he was born. This was mainly north west and Appalachian (thank you, Mum) but Dad (and grandad, and other grandad, and uncle, and godfather, etc) soon set him on the road to Cotswold. By the age of 10 he had kits for 5 different sides he had danced out with and he now has so many he has lost count.
Toby started attending the Morris Ring jigs instructional as soon as Mum could be convinced Dad wouldn't let him stay in the pub too long past closing time. Triple jump training put a leap in his steps that few can match (without injury!) and he soon became a demonstrator and then an instructor at the jigs weekend. He now determines his own time to leave the pub!
Toby currently holds the Sidmouth John Gasson Jig trophy for the single jig as well as (once someone finds a way to post it to him) the Cliff Barstow jig trophy, having also won the double jig competition at Sidmouth in the very recent past. He is the only person to have won both festival jig competitions in the same 12 month period.