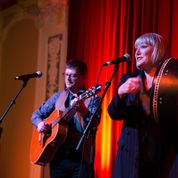 Barbara Dymock & Christopher Marra
Barbara and Christopher are a pair with many and varied musical collaborations behind them and a vast experience of performing. The Herald has described their stage shows as: "a musically enjoyable, mischievously entertaining performance from a well-matched duo". 
Barbara was brought up in Fife, learning Scottish and Irish songs from her grandparents. At Dundee Uni she began singing with the newly formed Ceolbeg, and was amazed that people were interested in hearing her granny's "auld sangs". She has been pleasing crowds with her traditional songs ever since, and in 2011 was nominated as Scots Singer of the Year at the Scots Trad Music Awards.
Chris has been a musician since his teens, working in many distinct fields from bighair rock to sophisticated pop with Danny Wilson via London's Theatreland. The majority of his time was spent recording and performing with his brother Michael Marra, producing albums for Michael and the legendary Saint Andrew.
In 2016 Chris produced and played on Barbara's well-received album: "Leaf an' Thorn".